Selling Car to Scrap Yard in Brisbane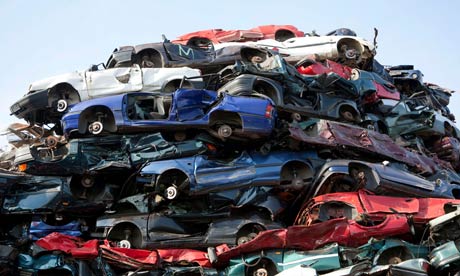 Selling Car to Scrap Yard in Brisbane? The following tips are essential when you want to scrap your car for cash in Brisbane 4000.
What exactly is an end-of-life vehicle?
An end-of-life vehicle is a specified vehicle, such as a car, which is discarded or is to be discarded by its registered owner as waste. Vehicles normally reach the end of their useful lives, either due to age (typically around 12-15 years), or because of heavy damage following an accident. There is no fixed age, therefore, at which a vehicle can be considered an end-of-life vehicle.
Sell To an Individual in Brisbane
Most private buyers want automobiles that run. If your vehicle is down for the count, your chances of selling it to an individual are slim — unless, of course, the car is a classic. In that case, the body alone may be valuable. If your unwanted car is just a regular automobile, though, selling it to a dealership in or a junk yard in Brisbane, that pays cash for junk cars, is a better option.
Sell to an Auto Dealership in Brisbane
Auto dealerships are interested in buying used vehicles in Brisbane. After all, research shows that many dealers make a better profit from selling pre-owned models than new ones. For an automobile to be valuable to a dealer, it needs to be in reasonably good condition. Dealers don't mind replacing tires or a few bad engine parts, but they want to invest as little money as possible to make a vehicle salable. Consequently, they usually don't offer cash for scrap cars.
Selling Car to Scrap Yard in Brisbane
A salvage yard that has a "cash for cars" program in Brisbane, is the best place to sell a vehicle that is out of commission. Salvage yards that offer cash for junk cars sell usable parts from vehicles that are wrecked, broken, or have a problem that makes them un-drivable. In addition to typically paying the seller hundreds of dollars for a clunker, a scrap yard commonly offers to tow the vehicle for free.
If you have an old car, that is considered a classic, or needs a few fixes to be in good condition. You may get the most money from selling it to an individual or auto dealership in Brisbane, respectively. However, if the auto isn't a classic, and would require costly repairs to run again, selling it to a salvage yard that has a "Cash for cars" program is the best option. To learn how much your clunker is worth, call a Brisbane car wreckers that offers cash.
Used Car Parts That Makes the Difference
The market for used car parts is always thriving and so even if you have a car that is not functioning, its parts can be used for making comparable models. There are auto salvage lots in Brisbane, who sell the parts from the junk vehicles to other automobile owners and repair shops at a cost less than the cost of similar new parts.
Selling parts is the reason they are ready to pay cash for junk cars. So, you can sell your vehicles that are not in a running condition to some second-hand automobile dealers, who are ready to pay for junk vehicles as well.
The first thing you will have to do is to obtain the title of the car, and you will have to establish the ownership of an un-working automobile to be sold with a title that has your name. You need the title because most of the dealers will be ready to offer cash for junk cars only when the person contacting them has a clear title on the vehicle. They are doing this for ensuring that they do not get cheated by people, who are not the owners of the car.
Next, you will have to assess your junk automobile and will have to prepare a list of systems or body parts that are not working or that are damaged. Also, do not forget to add the list of any parts that has already been removed. Do not forget to check the tires of your vehicle and its interior condition as well.
Before actually deciding on a dealer, you can get a quote from different companies, who are ready to buy your junk car in Brisbane, and this will enable you to arrive at the best decision.
Cash for cars Brisbane buy any car that would be considered as 'scrap', from faulty cars that are uneconomical to repair to non-runners and cars with accident damage.. So no matter what condition your damaged car is in, give scrap car buyers team a call and we will:
Collect your damaged car or faulty car for FREE
Pay you the agreed price in CASH at the time of collection (No Haggling on your door step)
Take care of all the paper work
Scrap your car legally and responsibly, in accordance with Environment Agency regulations.
Not share your personal details with any 3rd parties in accordance to the Data Protection act
Find your nearest auto scrap yard: Toowoomba wreckers, Ipswich wreckers, Sunshine coast wreckers, Gold coast wreckers, Caboolture wreckers, Springwood wreckers, Southport wreckers, Melbourne wreckers, Dandenong wreckers, Perth wreckers, Mandurah wreckers. Auckland wreckers, Wellington wreckers, Christchurch wreckers.
Broken car collection provides free car removal service in Gold coast, Sunshine coast, Toowoomba, Gatton, Ipswich, Caboolture, Logan
Contact Broken car collection to get top cash for cars, vans, 4wd, Trucks…..and a free car removal service 0451 770 088
For any second hand auto parts or used auto parts contact King auto parts . we ship parts all over Australia 0416 615 100