The best van wreckers in Brisbane and all surrounding areas
Here at Broken Car Collection, we have brought the opportunity for all the van owners in Brisbane to sell their scrap and junk or even damaged vans to us and get attractive cash instead! No wonder, vehicles are supposed to get damaged or broken down after repetitive use for many years. At that point of time, you have no way left but to dispose of that car. Once you get in touch with us, you certainly get the best deal. We are one of the best Van Wreckers in Brisbane!
Worried about your van's condition, contact us
What makes our service distinguished in the city? The fact that we accept all types of vans and in any condition. No matter what the brand of your van is or how good or bad the condition of your van is. You can approach us with your needs and we promise to wreck vans in any condition.
Willing to buy your damaged van and you can also receive a free towing service from us.
We always try to make sure that the owners feel the utmost convenience and find the service really hassle-free.
We make the best use of the used van parts
If you are in search of some great quality used van parts at affordable prices, this is the right place for you! We collect the active and used parts of the wrecked vans and we provide them at an attractive price to the needy people. You can also explore a great inventory of used vehicles parts at QLD Van Wreckers Brisbane. With the help of our experienced team of technicians, we can easily find out the active parts even in your damaged van. Also based on this, we decide the value of your vehicle.
Why approach Broken Car Collection for van wrecking in Brisbane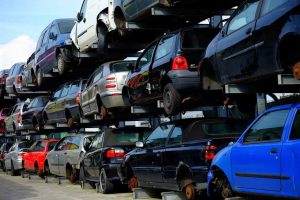 There are plenty of reasons why you should approach us with your wrecked van. We have been offering quality wrecking service in the entire Brisbane and all the surrounding area of Queensland for over years and we have an extended list of satisfied customers. The best thing is that we not just accept cars but, we accept all types of vehicles, including vans of all makes and models. All you need to do is give us a call at 07 3185 2424 and explain your needs and location. We provide free car removal service to pick your van from your place and remove it to the wrecking ground. In a way, you don't have to face any difficulty with the service.
The time is always a constraint for the owners and this is the reason why Brisbane Car Wreckers try to accomplish the entire process as early as possible. Starting from the paperwork to dispatch the cash, we try to keep things very simple and hassle-free so that you don't need to feel any obstacles.
Why we buy the wrecked vans at an attractive price from you?
This is a very common query that pops up into the minds of the people and they really want to know what we do with the vans. We basically repair, recycle or resell the vehicle based on its present condition. Each of the processes has its unique benefits and we make the best out of it.
When it comes to cash, we offer the best and the most competitive amount in the entire city. We have our very own specialists and mechanics who can better decide the pricing of your damaged van after looking into its conditions. They are well aware of the market price of all the single parts and based on it, you get the best cash amount from us.
So, if you are in need of wrecking your old van, you can certainly contact us. For any needs regarding the quotation, feel free to mail your need at info@kingauto.com.au.